Limo Site for Sale value: $7,890 sell: $4,600 You make back the $ in 3-5 months -peak season.
GUARANTEED
Road to SUCCESS!
Feedback on the website is warm, friendly and very professional. More work to do. We apply the laws of "Internet" attraction The press release is launched.Updates to come.
new Testimonial
I wanted to thank you for the incredible work you've done marketing my website.I have more customers then in the past 20 years. The website is now responsible for HALF Of our companies sales. You are the first person that has really made a difference ~Dan Oxford
WEBSITE
"SUCCESS" Story
www.paulscrap.ca
Mississaugawebsites enjoys continued success for
PAUL'S SCRAP CAR REMOVAL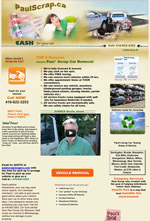 Our SEO(search engine optimization) service is a success! Most important: the hits have translated into sales, increase in business.